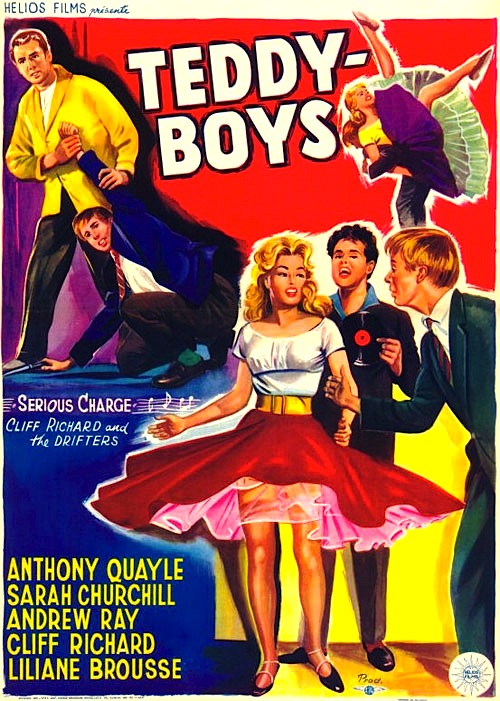 Selbstredend gabs auch britische Rock'n Roll Filme
mit viel Musik und pseudokritischer Auseinandersetzung mit der
"heutigen Jugend" von damals.
Marty Wilde, 15. April 1939
und seine Wildcats
feierten mit Coversongs von US Hits
grosse Erfolge in ihrem Heimatland.
Später verlegte er sich auf's
Songschreiben und schrieb er so bekannte
Hits wie "Jesamine" für die Casuals,
"I'm A Tiger" für Lulu und
"Ice In The Sun" für Status Quo.
Daneben produzierte er seine Tochter
Kim Wilde und schrieb auch
deren erfolgreichsten Hit "Kids In America"!


Johnny Kidd and the Pirates

Johnny Kidd (Frederick Heath )
23. Dezember 1939 - 7. Oktober 1966
war einer der wenigen originalen
britischen Rock'n Roll Acts.
"Shakin' all over"gehört bis heute zu den Klassikern





Heinz (Burt) begann als Bassist der
Tornados, die die Begleitgruppe
von Billy Fury war, andererseits aber auch
mit dem Instrumental-Mega-Hit "Telstar"
Telstar wurde von Joe Meek geschrieben.
Er baute Heinz zum Solisten auf.
Mit wasserstoffsuperoxydblonden Haaren
nahm Heinzden Look von Billy Idol
um Jahrzehnte vorweg
Als Joe Meek sich am 03. Februar 1967
(dem Todestag von Buddy Holly)
mit der Karriere von Heinz vorbei.
Heinz verstarb am 07. April 2000
im Alter von nur 57 Jahren.
Zu erwähnen wären noch Screaming Lord Sutch,
der vor allem durch seine ausgeflippte, von
Screamin' Jay Hawkins
inspirierte Bühnenshow auffiel.,
Man beachte die illustre Mitliederliste seiner Band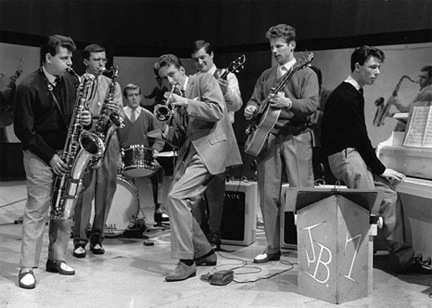 Die "John Barry Seven" deren Bandleader sich
wenige Jahre später zum gefeierten Filmusikkomponisten mauserte.
Er startete seine Karriere mit dem sozialkritischen Werk
"Beat Girl" auch "Wild for kicks)
deutsch "Heiss auf nackten Steinen, bevor er mit
James Bond Melodien Ruhm und Ehre
einheimste und später 5 Oscars gewann.
In "Beat Girls spielten neben Gillian Hills
auch Adam Faith, Christopher Lee und Oliver Reed
Nicht zu vergessen, Tony Sheridan,
der schon bevor er in Hamburg
zusammen mit den Beatles spielte,
in seiner Heimat einen guten Namen hatte.
Wer durch meinen kleinen Streifzug durch
die britische Rock'n Roll Geschichte
neugierig geworden ist, kann sich selbst
auf Entdeckungsreise begeben und
herausfinden, wer sich hinter zumeist in
Vergessenheit geratenen Namen verbirgt.
Eden Kane
Duffy Power
Terry Dent ...
Cliff Bennett and the Rebel Rousers
Shane Fenton and the Fenones
Mickie Most
Dave berry
und... und... und...